Gold shoes are always a bold and striking bet. Matching them with a plain dress and neutral colors, such as white, black, or brown could be great ideas. All of them combine with golden shoes to perfection and are ideal if you do not intend to reload a look.
Match golden shoes to achieve an informal look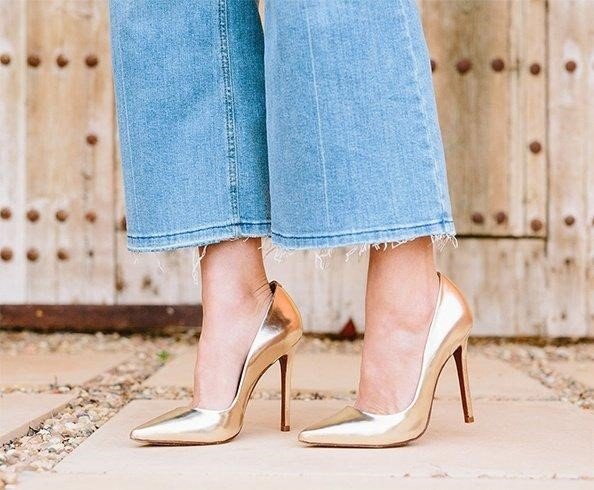 It is a mistake to think that only these pieces are worn with a gala or dress outfit. They can be used with informal styles, in order to achieve the perfect touch that you are looking for to make yourself stand out. Nice sports shoes, along with jeans, will undoubtedly be a great option for day-to-day.
On the other hand, denim garments, whether they are skirts, overalls, jackets, even pants, will look great with golden shoes and will help girls achieve their own identity with a touch of their personality. Besides that, if they wear denim they can feel safe in their combination.
Match golden shoes with neutral colors
Gold shoes worn with neutral tones are a great option. One recommendation is to use white, beige, and even brown. Many love the first color since many times brides combine their dress with metallic high heels to look unique.
Essential tips to look good in golden shoes
Betting on a unique shade for clothes does not mean being boring. The metallic boots fit very well with what is in trend, such as electric blue.
If you want to wear this style because it is fashionable, but you do not want to look completely groomed, an informal look is also worth it. Wearing them with jeans is an option that should not be missed.
The main thing and the first thing is not to go for the excesses, but to combine them with a single color, and forget about wearing gold clothes with gold shoes.
Golden shoes will always be a trend that will be in fashion, as they combine with any garment. With the same footwear many different looks can be made.
It is time to get down to work to look impeccable with unique outfits, highlighting the personality of each person to others.
Footwear is a great complement to the outfit, so you have to pay special attention and know how to combine it so that the final result is spectacular. Do not forget to find some that are comfortable for you to enjoy at all times.
More fun Gold Shoe Options
At Lidia Talavera, you have the option of letting your creativity soar. This is Anna, a strappy Sandal featuring fun baltic blue and gold colors. All of our styles are customizable, you can pick and choose from over 30 different colors.
Personalize your gold heels with any other fun color….Make it Your Own!
Where to buy the perfect shoes?
At Lidia Talavera, we are not only thinking of Women. We are also thinking about our LGBTQ+ community, crafting heels in both women's and men's sizes.
Check out our all-inclusive line of heels, pumps, and belts, choose your style… we dare you!
Putting your best foot forward, no matter the size.